Émile Jaques-Dalcroze
«This genius educator only lived for the future.»
— Alfred Berchtold, 2000
Born in Vienna
Originally from Sainte-Croix in the canton of Vaud (Switzerland), Emile Jaques-Dalcroze (1865-1950) was born in Vienna (Austria). The family settled in Geneva ten years later. A composer and musician, he studied music in Geneva, in Paris (with Delibes and Fauré) and in Vienna (with Bruckner).
1892
It was between 1892 and 1910, while teaching harmony at the Geneva Conservatory, that he abandoned the conventional theoretical approach to develop Dalcroze Eurhythmics, an interactive and multidisciplinary pedagogy based on the musicality of movement and improvisation.
1899
In 1899, he married the Italian singer Maria-Anna Starace, whose artist name was Nina Faliero. Their son Gabriel was born in 1909.
1910
In 1910, Jaques-Dalcroze moved to the garden city of Hellerau near Dresden, Germany, where two patrons, the Dohrn brothers, built a tailor-made institute for him. It was in this laboratory of the future that he pursued his research on musical education, movement, and artistic creation, substantiated by shows based on the revolutionary scenography of Adolphe Appia. This unprecedented collaboration attracted all the European intelligentsia: Ballets Russes by Diaghilev (who worked with Marie Rambert, a Rhythmics teacher with a decisive influence on the Rite of Spring), Bernard Shaw, Arthur Honegger, Ernest Bloch, Le Corbusier, Paul Claudel, Stanislavski or Ernest Ansermet, to name a few. This experience resulted in the opening of Jaques-Dalcroze training schools around the world.
Jaques-Dalcroze returns to Geneva
The First World War forced Jaques-Dalcroze to return to Geneva, where the Institute of his name opened its doors in 1915. Today, it counts some 2,600 students, – children, adolescents, amateurs, adults, and seniors. Awarded honorary citizenship, Jaques-Dalcroze continued his work in Geneva until his death on July 1, 1950.
Alongside his activity as a teacher, researcher, and tireless unifier, Jaques-Dalcroze is the author of countless songs that have become part of the popular heritage of French speaking Switzerland, (not to mention satirical verses that delighted the Parisian Chat Noir). Today we are rediscovering his career as a composer, which led him to produce, from 1883, a large number of works for concert and lyric theatre. Notable works include four operas, two violin concertos, symphonic works, and abundant chamber and piano music.
Vintage postcard from the Festspielhaus in Hellerau.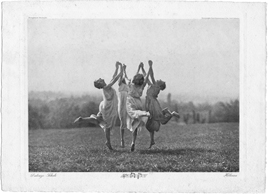 «Rythmiciennes en plein air», photo of Frédéric Boissonnas, 1909-1910. Annie Beck, Suzanne Perrottet, Jeanne Allemand and Clara Brooke.